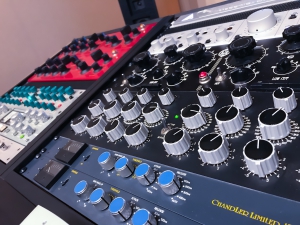 Our pricing is based on the number of songs on the album, alternate versions of the songs (radio edits, instrumental versions, etc.), final delivery formats, delivery date, and other factors. If you are new to our process, a free consultation can be provided regarding the direction of the project before giving a final quote to help ensure your complete satisfaction.
All work is done remotely and includes downloadable demos of each song for your approval before receiving the final master so that you may provide feedback regarding the direction of the project. This allows you to listen on a variety of playback systems to help ensure that your music will translate across any playback system and to listen over a longer time period rather than having to commit in a single or multiple attended sessions. After all demos have been approved, the final master will be supplied in the required formats.
How do I deliver the mixes?
Mixes may be delivered through a standard file hosting service such as Dropbox, WeTransfer, Hightail, etc. We can also setup a folder for you to upload the files if requested.
What format should I use for the mixes?
Mixes should be supplied as stereo files in an uncompressed/lossless format (wav, aiff, flac, etc.) at the same sample rate as the mix session. It is also recommended that you use either 24 bit or  32 bit floating point audio rather than 16 bit to allow for greater headroom and fewer conversion artifacts during processing for mastering.
What levels should I use for the mix before mastering?
In order to ensure that your mix is not clipping it's a good idea to leave a few dB of cushion between the peaks and 0 dBFS. A recommended value is approximately -6dBFS, but slightly above or below is fine. In addition to peak level, the average level of the audio should leave enough room for any dynamic processing that may be required. If the mix is over-compressed, often by using compression on the main stereo bus, it can be very difficult to fix in the mastering process. For this reason it is generally recommended that compression on the overall mix only be used where it gives the mix a desired texture or tonal quality and not used simply to make the mix louder.
What is the format of the master?
Masters will be sent using the Disc Description Protocol (DDP) format for CD replication or as individual stereo broadcast wav files for digital distribution in any resolution that you require. We can also supply MP3 files with metadata and support all major digital formats. If you have special requirements for the master(s) please let us know.
To find how we can help take your music to the next level please complete the following form.